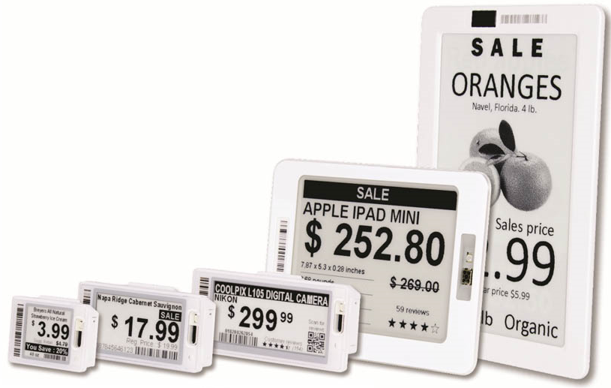 ---
Save YOUR Enviroment and Costs with ePaper
flexible, efficient, optimized
---
Die ELS (Electronic Shelf Label) mit ePaper-Technologie werden auch bei der Pick by ePaper Kommissionierung im Lager als Hilfstechnik eingesetzt. Die Displays sind mit kleinen Langzeitbatterien versorgt und werden ohne Verkabelung von LUCA-Server angesteuert.
Use of the
Die ePaper Displays sind NICHT als Ersatz für Pick-by-Light geeignet. Die Geschwindigkeit der Aktualisierung hängt von der Größe der Displays ab, und liegt zwischen 5 bis 40 Sekunden. Die Ansteuerung der blinkenden LED (grün) kann in ca. einer Sekunde erfolgen. Aus dem Grund werden die ePaper-Displays für statische Kennzeichnung der Lagerorte, bei SET-Bildung und als Ersatz für Papierschilder verwendet. Die Sequenzwagen in der Automobilindustrie werden mit den ePaper-Displays, anstatt Papierlisten, gekennzeichnet. Als Kommissioniersystem ist ePaper nur bedingt geeignet.
The Transceivers
The communication between the display LUCA-Serverand the individual displays takes place bidirectionally via the transceivers. Depending on the warehouse layout, a transceiver must be positioned every approx. 24 meters to supply all displays with data. The transceivers are supplied with data and power via the POE network without additional power supplies. The installation is very simple and can partly be done on site.
Battery life
After updating the display, only the economical receiver remains active and "waits" for the new telegrams. The patented data transmission between the AccessPoints is bidirectional and uses a reflective light signal, which guarantees absolute power saving and stability compared to other radio-based market products. The battery lasts for 2-7 years, depending on the frequency of updating.
---
ePaper ?
The ePaper technology is very well known from the eBooks. The ESL (Electronic Shelf Labels) have conquered the big supermarket chains. The information on the ePaper display is updated using the battery power. After the update, the display no longer needs power to display the information. The content of the advertisement can be freely designed. The control is carried out via the central LUCA-Server.
characteristics
Latest ePaper Technology
full graphic display
signal LED
Power-saving electronics
long-life battery
Different sizes
Flexible use
Simple assembly
Solutions
Storage location identification
Article identification for SET formation
Labelling of the sequence cars (automotive)
Container identification