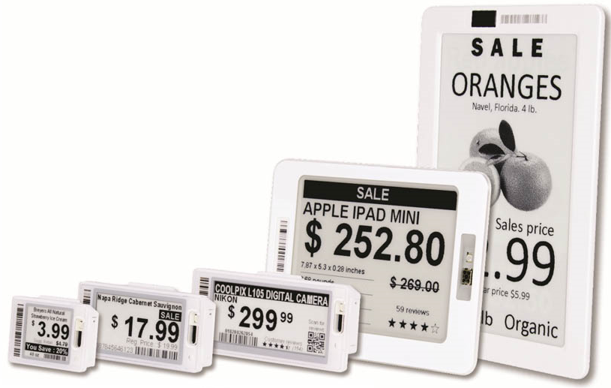 ---
Save YOUR Enviroment and Costs with ePaper
flexible, efficient, optimized
---
ELS (Electronic Shelf Label) with ePaper technology are also used as auxiliary technology for pick-by-ePaper picking in the warehouse. The displays are supplied with small long-life batteries and are operated without cabling from LUCA-Server ...to the control room.
Use
The ePaper Displays are NOT a replacement for Pick-to-Light suitable. The speed of the update depends on the size of the displays and ranges from 5 to 40 seconds. The flashing LED (green) can be activated in about one second. For this reason, the ePaper displays are used for static marking of storage locations, for SET formation and as a replacement for paper labels. The sequence cars in the automotive industry are marked with the ePaper-Displays instead of paper lists. As a picking system, ePaper is only conditionally suitable.
The transceivers
Communication between the LUCA-Server and the individual displays is bidirectional via the transceivers. Depending on the warehouse layout, a transceiver must be positioned every 24 meters or so to supply all displays with data. The transceivers are supplied with data and power via the POE network without additional power supplies. The installation is very simple and can partly be done by the customer.
Battery life
After updating the display, only the economical receiver remains active and "waits" for the new telegrams. The patented data transmission between the AccessPoints is bidirectional and uses a reflective light signal, which guarantees absolute power economy and stability compared to other radio-based market products. The battery lasts for 2-7 years, depending on the frequency of updating.
---
ePaper ?
The ePaper technology is very well known from eBooks. The ESL (Electronic Shelf Labels) have conquered the big supermarket chains. The information on the ePaper display is updated with the help of battery power. After the update, the display does not need any more power to show the information. The content of the display can be freely designed. It is controlled via the central LUCA-Server.
Properties
Latest ePaper technology
Full graphic display
Signal LED
Power-saving electronics
Long-life battery
Different sizes
Flexible use
Easy mounting
Solutions
Storage location identification
Article identification for SET formation
Marking of the sequence cars (automotive)
Container identification