Pick by Point®
The easy picking with one light point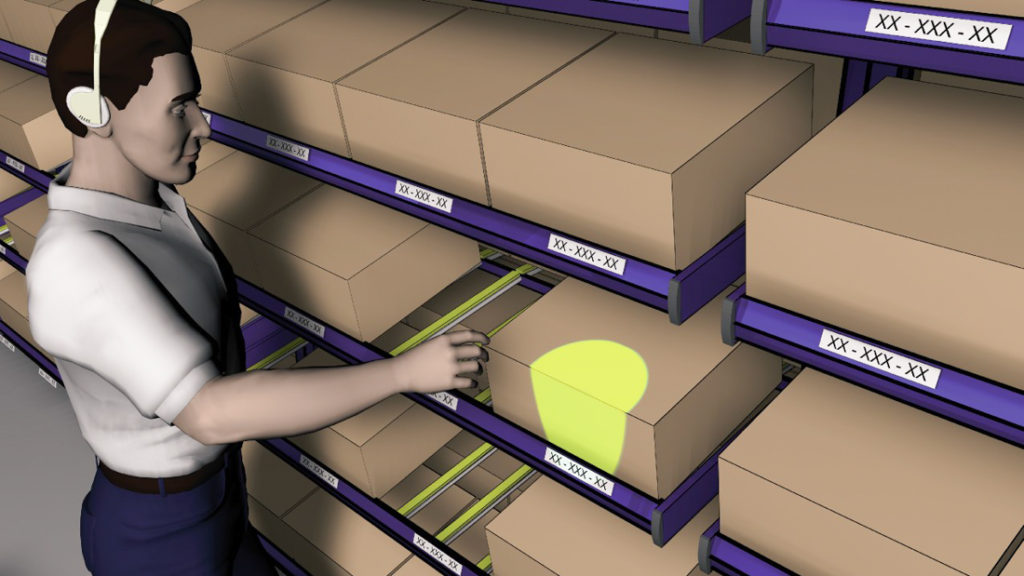 ---
Professional Stage Equipment in the Service of Logistics
one projector, one employee, many storage locations.
---
From the stage to the camp
The MovingHeads are common in stage technology everywhere. A concert without the light sources is unimaginable today. A few years ago, LUCA successfully used the technology in the warehouse and Pick-by-Point ®. The trademark is protected by LUCA under patent law.
The movable light point marks the storage bins – it can't be easier. The idea is very simple and practical and can be used for marking containers, pallets, small and large compartments at a distance of approx. 20 m. The quantity or drop positions in a cart and other characteristics are signaled on screens or by voice output if necessary. The number of pieces is not always important during the collection. In the case of automotif, the number of pieces is usually constant.
The acknowledgment of the activities is carried out via scanners, Pick-Radar ® or by language ( Pick-by-Voice ) confirmed.
2010 VW in Wolfsburg
The introduction of our Pick-by-Point ® solution at VW in Wolfsburg celebrated its premiere in 2010. The use of LUCA technology in replenishment control and the sequencing of door handles has made it to the first page of the VW magazine "autogramm Wolfsburg 06-07/2010". It was not only VW Wolfsburg that was very proud of the LUCA solution. The message about the Pick-by-Point ® has spread very quickly in all other VW plants and VW brands. Some SKODA employees were particularly enthusiastic about the solution, which was also particularly recognized some time later (see below). The first VW plant still works in Wolfsburg with a service provider, Schnellecke, and serves to supply the production line at the VW plant for golf, Touran and Tiguan. Since then, the innovative Schnellecke company has used several LUCA systems worldwide.
2012 VW Innovation Day
At the Innovation Day in June 2012 in the VW Group (in Martorell/Spain), SKODA won the Pick-by-Point ® solution the top prize as "Best Innovation of Logistics". We are pleased that this LUCA solution has received such recognition in the VW Group. We would like to thank SKODA for recognizing the innovative LUCA solutions in sequencing and picking, in the more than 200 different plants installed there at the SKODA plants (in Mlada Boleslav and Kvasiny).
Pick-by-Point ® today
Our Pick-by-Point ® solution has managed to take its place as an integral part of the solutions in logistics. Several universities and renowned scientific institutes, such as the Fraunhofer Institute in Dortmund (Mr. Detlef Spee), have also installed the LUCA solution in their own walls to present the technology of the young logistics generation. In some textbooks and learning materials, the Pick-by-Point ® reported.
---