Voice Picking in 2023
Picking and sorting with voice support
The employee receives the commands via the headset and confirms the activities via voice commands or barcode scanners.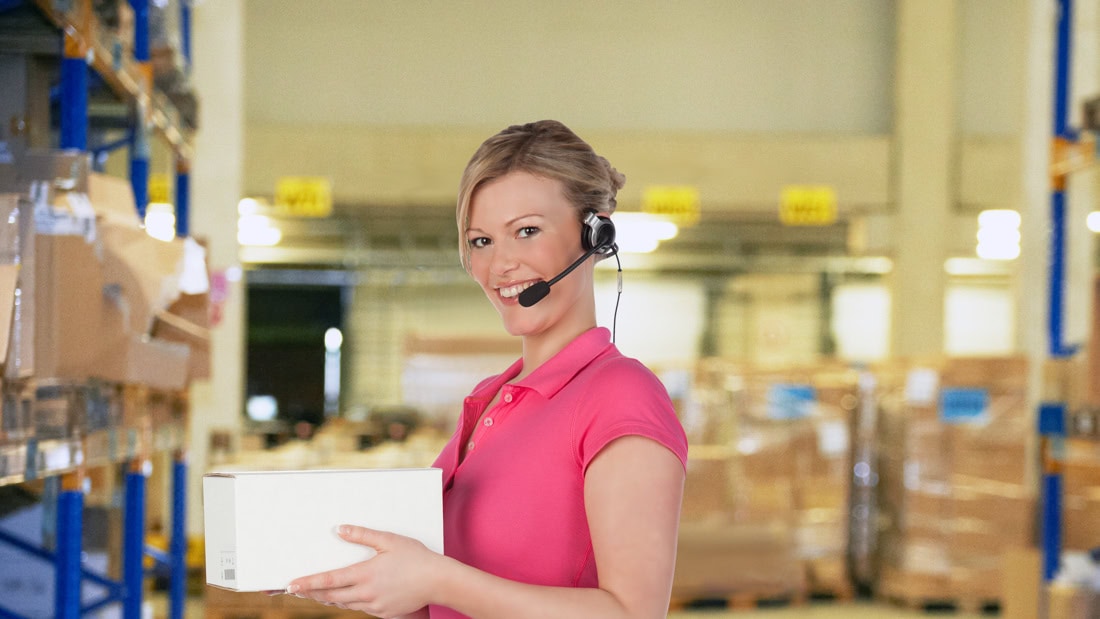 Pick by Voice solutions are among the standards among the many picking processes. The voice-based picking process was developed around 1995 and was intended to support pickers in improving picking performance. At that time, however, voice recognition did not work well.
What is Pick by Voice?
Pick by Voice is a modern picking method and works with speech.
How does Pick by Voice work?
The pick list (order) is prepared by the warehouse management system in the route-optimized process sequence and sent to LUCA-Server . Paperless picking can begin.
The LUCA-Server controls the process and sends the commands to the voice terminal. The instructions are issued to the picker via headset.
(e.g. "go to aisle 7", "storage bin A02 05 14", "3 pieces").
The picker can repeat the current voice instruction again and again with a voice command "repeat" while working.
The picker confirms the aisle ("7 OK"), the storage location ("57 OK" as a check digit) and his removal ("3 OK") by voice input. The software on the voice terminal analyzes his voice. The high-quality software converts the voice commands into text commands.
Confirmation of picking (acknowledgement) is sent to the warehouse management system via LUCA-Server. Further processing, the next voice dialog of the picking process and communication with hardware also takes place centrally via the server.
The picker can adjust the volume, speed of pronunciation and other parameters by voice control during picking.
The hardware
The standard system consists of the following components:
Headphones with a microphone (headset). Alternatively, the picker can use a system vest with a built-in microphone and loudspeakers during order picking.
Voice terminal with a belt or clip ensures WiFi communication with the system and performs voice recognition.
Replaceable battery (lasts for 10-12 hours of use) with chargers.
Extensions
As a system provider, the following extensions are available to us:
Back of hand barcode scanner for scanning items or serial numbers (logistics standard for order picking)
ePaper displays as dynamic check digit displays on each storage compartment (change e.g. every 10 minutes)
Pick-by-Point® as a supplementary picking system for the direct display of storage locations. This hybrid solution increases efficiency and performance enormously.
If you have any questions about the voice-supported system, we will be happy to help you as a supplier. In further articles we will describe the topic Pick by Voice describe the topic in more detail.
We have many years of experience in paperless order picking
Systems for
logistics and production
Voice Picking
Pick by Voice and SAP
No problem. Our LUCA-Server ensures an optimum connection to every warehouse management system and also to SAP. The systems can exchange data with each other via RFC, IDOCs, databases or TCP/IP.
Advantages
The advantages of Pick by Voice at a glance:
Flexible use in warehouse logistics thanks to lightweight, portable voice technology (wearables)
Order-oriented, voice-guided picking with direct data acquisition of the picking lists
Ideal for working on one job (only then high efficiency)
Hands and eyes free during order picking (freedom of movement and good voice output)
With Lydia® from topsystem: speaker-independent voice recognition (voice system without teach-in). We trust Lydia® as a system provider.
Disadvantages
Pick by Voice However, it also has some disadvantages that put a strain on the system:
High error rate due to memorization of check digits for smaller bearings
Loss in picking time and picking performance due to many voice inputs (the picker has to speak a lot).
Not suitable for Multi-Order-Picking (only simple pick lists work well). The picker may lose orientation at the storage location when distributing the goods to several orders.
Relatively low picking performance compared to other pick-by systems.
High employee workload at high speed (weak cognitive ergonomics with the system and low employee acceptance in the event of incorrect use).
When should a Voice Picking system be used in warehouse logistics?
The voice-guided (voice-controlled) method can be used to great advantage in a company's logistics for slow and medium-fast paperless picking in large pallet warehouses. However, the demands on the operator (order picker) must not be too high. The order picker must adapt to the voice control system. Otherwise, errors increase very quickly and productivity drops. This is where voice picking has its limits.
Pick by Voice is not well suited in logistics for high performance picking from shelving racks or flow racks. For order picking from pallets, Pick by Voice is very well suited.
As a provider of many picking methods, we are also happy to combine Pick by Voice with other systems to create an optimum overall solution (read also about our hybrid concepts).
Supported languages
Voice output (output)
Arabic, Basque, Bengali (India), Bhojpuri (India), Bulgarian (Bulgaria), Cantonese (Hong Kong), Catalan, Croatian, Czech, Danish, Dongbei (China), Dutch (Belgium, Netherlands), English (Australia, Great Britain, India, Ireland, Scotland, South Africa, USA), Farsi, Finnish, French (Canada, France), Galician, German, Greek, Hebrew, Hindi, Hungarian, Indonesian, Italian, Japanese, Kannada, Korean, Malay, Mandarin (China, Taiwan), Marathi, Norwegian, Polish, Portuguese (Brazil, Portugal), Romanian, Russian, Shanghainese (China), Sichuanese, Slovak, Spanish (Argentina, Chile, Colombia, Mexico, Spain), Swedish, Tamil, Telugu, Thai, Turkish, Ukrainian, Valencian, Vietnamese
Voice input (input)
Arabic (Gulf Region), Bulgarian (Bulgaria), Cantonese (Hong Kong), Czech (Czech Republic), Danish (Denmark), Dutch (Netherlands, Belgian), English (USA, England, Australia, Scotland, Ireland, India, South Africa), Farsi, Finnish (Finland), French (Canada, France), German (Germany), Greek (Greece), Hebrew (Israel), Hindi (India), Hungarian (Hungary), Indonesian (Indonesia), Italian (Italy), Japanese (Japan), Korean (South Korea), Mandarin (China), Norwegian (Bokmal, Norway), Polish (Poland), Portuguese (Portugal, Brazil), Russian (Russian Federation), Sichuanese (China), Slovak, Spanish (Spain, Catalan, Basque, Mexico), Swedish (Sweden), Thai (Thailand), Turkish (Turkey)
Conclusion
Pick by Voiceas a voice-supported solution for paperless picking, is very flexible in intralogistics and can be used excellently for slow and medium picking performance in large storage areas. The speaker-independent software ensures an easy introduction for the order picker and delivers very good speech analysis results in the set language. Even in difficult and noisy environments, the error rate is very low! Also suitable for logistics in a refrigerated warehouse. The check digits at the storage locations should be better replaced by scanners or various extensions.
You can also find more information on Wikipedia.
---
Alternative pick-by systems:
Pick-to-Light, Pick-by-Point ®, Pick-by-Cart, Pick-by-Frame ®
You can find an overview of all LUCA order picking systems on the page: LUCA systems.